With its first origins in cave painting, street art developed more and more in the last years and became an important part of contemporary art. It all began with simple tags in the USA in the late 1960's, then by and by the designs were getting more complex and artistic. Spray cans were introduced and new styles and techniques were developed. In the 80's graffiti finally found it's way to europe, particularly to cities like London, Amsterdam, Berlin and Paris, where then the stencil technique emerged.
Graffiti Artists:
Mau Mau:
Mau Mau is a renowned graffiti artist who has gained a cult following for his humorous street art often based on topical themes. He has produced work for Greenpeace and the Glastonbury Festival, has created animated music videos for artists such as Dizzee Rascal and you can find many of his designs on THTC's shirts!
Banksy:
Banksy is a pseudonymous England-based graffiti artist, political activist, film director, and painter. His satirical street art and subversive epigrams combine irreverent dark humour with graffiti done in a distinctive stencilling technique. Such artistic works of political and social commentary have been featured on streets, walls, and bridges of cities throughout the world.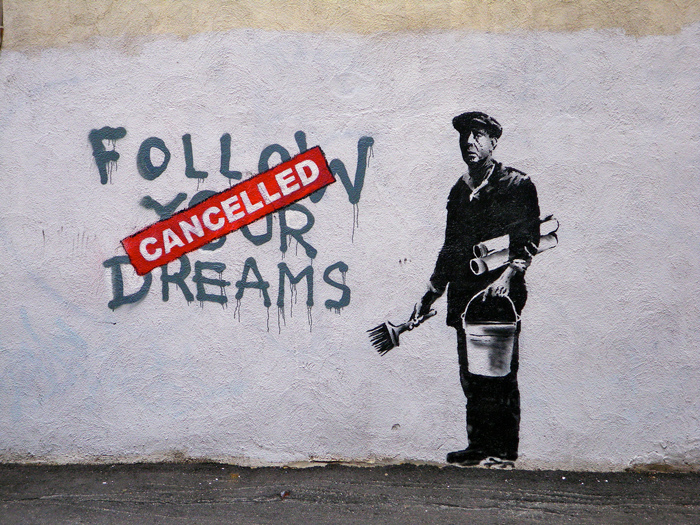 Inkie:
Inkie, having emerged from the 80's Bristol scene, soon became one of the most notorious writers in UK graffiti's history painting alongside 3D and Banksy. He came second in the 1989 World Street Art Championships.
Herse:
Graffiti artist, graphics designer, DJ and organiser of B-boy event Throwdown, Herse has produced many of our most popular designs over the years, including the Herb n Warrior, Save the Jungle, Optic Jungle and Herse Tag prints.
Devolution Designs:
Preferring a pair of decks to a paintbrush when he was at uni, Richard Lock has managed to combine his twin passions - art and music - as a graphics designer. He established Devolution in 2005 and has since proved himself by working on a multitude of high level projects for everyone from heavy metal bands to clothing labels and club nights to corporate clients.
Fybeone:
Greg Haynes a.k.a. Fybeone is a highly creative graphics designer, graffiti artist and music producer, who has been working with THTC for many years producing t-shirt designs, graff banners, cd covers and web design. He often combines digital graphics with hand-drawn elements and uses rich textures in a lot of his work.
Maximilian Wiedemann:
Graffiti artist, Maximilian Wiedemann, explores the dependent relationship between pop culture, media and consumerism. His sense of humor is perfect for our ambiguous times, with quotes such as 'Closer to God in Heels' and 'Money Talks but Has Nothing to Say'.
DS:
Studying fine art at university, DS was fascinated by miniature design, Japanese animation & propaganda posters. It was while living in East London during the early 2000s that he became intoxicated by a graffiti movement that was coming of age. One couldn't help but notice the colour & imagery that soaked the otherwise drab grey walls of Dalston & Shoreditch.
Ben Slow:
Working from his London studio, Ben finds an exciting dynamic in the contradictory relationship between the glamorous pop images and the raw, unrefined urban context in which such icons are celebrated.
Cosmo Sarson:
Cosmo studied fine art painting at The Byam Shaw School of Art, achieving early success as a student when his degree show was sponsored by Paul Smith. A recent project for the charity 'Age Concern was shown at the Saatchi gallery just last month. Cosmo began to focus on images of police and rioters after the student riots last year, a theme that became almost prophetic as the most recent riots unfolded.
Team Robbo:
Team Robbo is a graffiti crew from England.

West London Art Factory:
Having launched just over a year ago West London Art Factory started life as a screenprinting studio, workshop space and selection of private studios for artists but has since become much more. Born out of a love of art, it is run by Creative Director and artist in her own right Jewel Goodby. Since its inception it has taken on a dynamic and vibrant life of its own. As a means to promote artists and members work we began hosting events with art, live music and installations. Our opening event 'Get Rolling' in April 2011 was followed by the launch of our hugely successful 'Factory Project' in July 2011 at Red Bull Studios. As a developing brand 'Factory Project' then took up residence at London's exclusive members club for the creative industry The Hospital Club with a collaborative show which opened in October 2011 running to Jan 2012. This has marked WLAF as a platform for both established artists and young up and coming talent to showcase their work and reach a wider audience.
For more information check out their website!
Graffiti Videos:
Links:
Art Crimes - The Writing On The Wall - first and largest graffiti online archive
UK Graffiti - international graffiti site with interviews an large gallery
Street Art London - news and pictures of London's street art
UK Street Art - The UK resource for exhibitions, prints, interviews and news in street art and graffiti
Clout Magazine - graffiti magazine featuring street influenced art, fashion and music
Stylefile - graffiti magazine
Graphotism - graffiti materials, info and news

What is THTC?
Our mission is simple - to support organic farming, reduce agricultural chemical use, encourage ethical trade, save water and to create a buzz around activism.
THTC is not just a brand. THTC is an extended family of talented musicians, poets, actors, dancers and activists. If you've ever bought or worn a THTC t-shirt you are helping to spread our message and we thank you. THTC fam, you know who you are!!
DEALERS
CONTACT
PR and SALES:
+00 44 (0)208 566 4184
OUTSIDE UK:
+44 (0)208 566 4184
CUSTOMER SERVICE:
+00 44(0)208 566 4184
E-MAIL: gav@thtc.co.uk
OFFICES
The Hemp Trading Company
15A Princes Avenue
London, England
W3 8LX
Company No: 527608