var _learnq = _learnq || []; var item = { Name: "Low Class Letter Crew Hemp Socks", ProductID: 6636286181479, Categories: ["Accessories","All","hemp accessories","Hemp Clothing","Keep Fit Collection","Men's","Men's Hemp","Most Popular","The THTC Collection","THTC Hemp Socks","THTC Hemp Socks"], ImageURL: "https://thtc.co.uk/cdn/shop/products/socks5_grande.jpg?v=1699267912", URL: "https://thtc.co.uk/products/low-class-letter-crew-socks", Brand: "THTC Clothing", Price: "€11,86", CompareAtPrice: "€0,00" }; _learnq.push(['track', 'Viewed Product', item]); _learnq.push(['trackViewedItem', { Title: item.Name, ItemId: item.ProductID, Categories: item.Categories, ImageUrl: item.ImageURL, Url: item.URL, Metadata: { Brand: item.Brand, Price: item.Price, CompareAtPrice: item.CompareAtPrice } }]);
| | | | | | | |
| --- | --- | --- | --- | --- | --- | --- |
| | S | M | L | XL | XXL | XXXL |
| Height | 5'8 | 5'10" | 6" | 6'2" | 6'4" | 6'6" |
| Chest | 36" | 39" | 42" | 46" | 50" | 54" |
| Waist | 29" | 32" | 35" | 39" | 43" | 47" |
| | | | | | | |
| --- | --- | --- | --- | --- | --- | --- |
| | S | M | L | XL | XXL | XXXL |
| Height | 173cm | 178cm | 183cm | 188cm | 193cm | 198cm |
| Chest | 92cm | 99cm | 107cm | 117cm | 127cm | 137cm |
| Waist | 74cm | 81cm | 89cm | 99cm | 109cm | 120cm |
Chest: Measure all round your chest just below your armpits.
Waist: Measure round your waistline, where your trousers would button up.
Height: Your natural height.

If you fall between the sizes, go for the larger of the two.

If the product that you order doesn't fit, you can request an exchange, with free returns for all UK orders.
An Ethical Consumer Company
Ethical Consumer's Best Buy Label is the last word on ethical labelling making it even easier to find the products and services that reflect your principles.
Using the Ethical Consumer's extensive database, researchers rate both the product and the company behind the product against more than 20 animal welfare, environmental and human rights criteria.
At THTC, we are proud that our products meet Ethical Consumer's Best Buy standards.
Read our Ethos >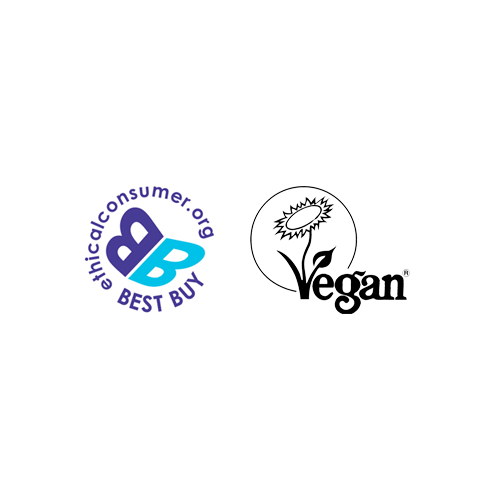 CUSTOMER REVIEWS